Mar 17
10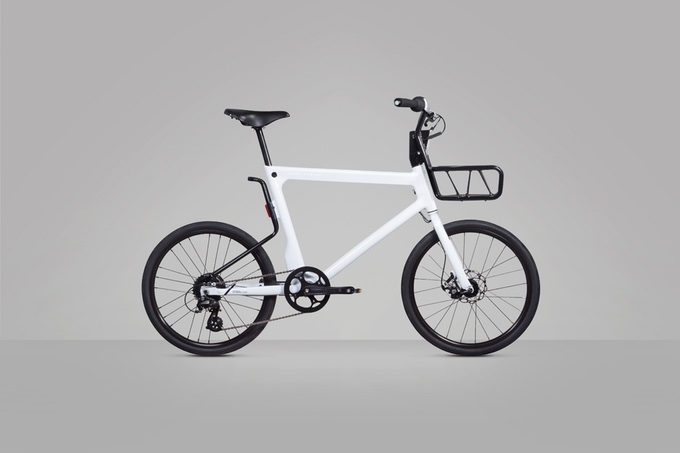 Fly home fast and tackle the toughest hills without breaking a sweat. Volta is packing a 40 mile range to get you where you need to be, quickly and easily – just like riding a bike.
40 miles on single charge
From Palo Alto to San Francisco, from Brooklyn to the Bronx and back, with 40 miles of power your rides are no longer limited by your legs. Let your imagination plan your route and see where it takes you.
GPS anti-theft tracking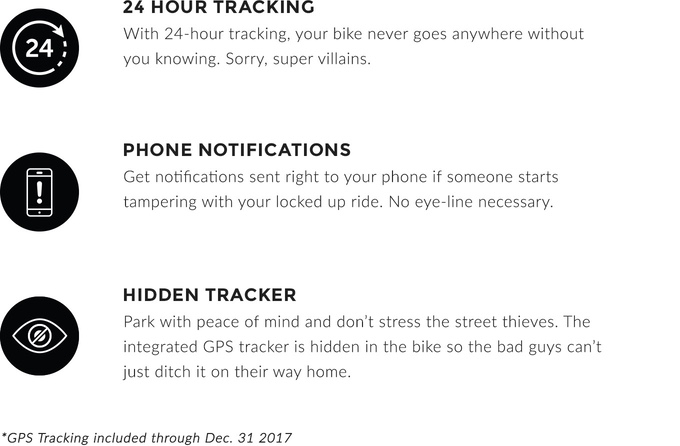 Theft is one of the worst things that can happen to a bike (and its rider). We integrated GPS tracking into the Volta so even when it's out of sight, it's never out of mind and, if the unthinkable happens, you'll be able to point the cops right to your ride.
belt drive and chain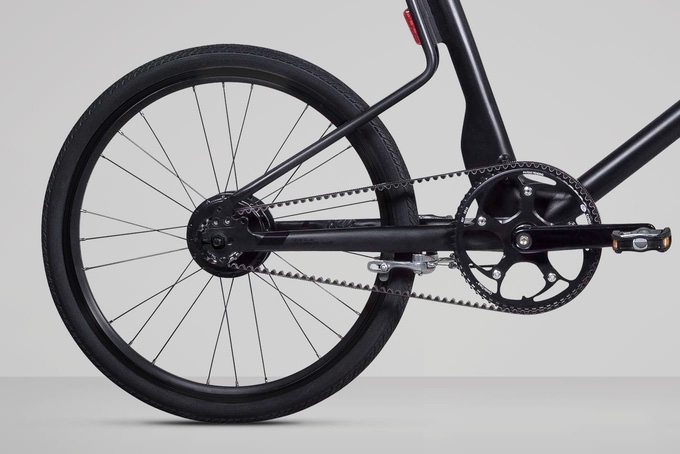 Whether you prefer the timeless look and feel of a chain or you're ready to take the leap into the hassle-free world of belt drives, there's a Volta set-up just for you. Belt drives are low-maintenance, mess free, and super durable so you can focus on the ride, not repairs. Chains are a bit more work, but if you're a competent wrench, you might prefer the classic feel and knowing exactly what to expect on your maintenance calendar. It's up to you!
rear hub motor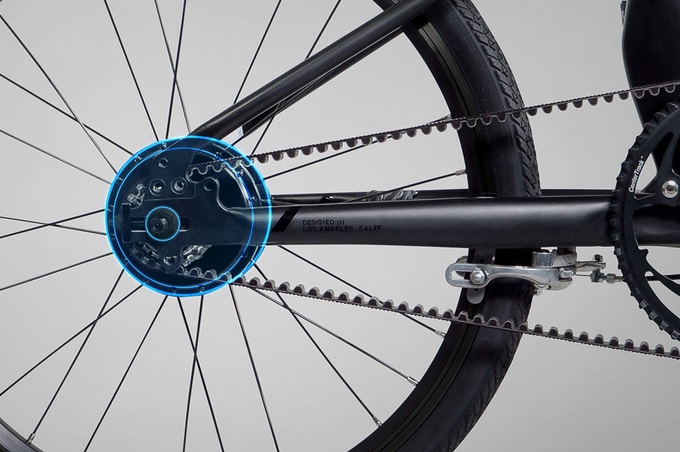 No complicated crank-drive, no clunky-transmission, just effortless power right where you need it. First we built a crank-drive motor, but weren't happy with the bike's performance. We test rode some front wheel motors currently on the market and couldn't stand the way it affected steering and traction. Our rear-mounted motor keeps the bike balanced and delivers performance directly to the rear wheel, so it's all "grip" and "go", no hiccups or falsestarts.
Your bike, your way. Volta has 4 power modes, so you can get exactly as much assistance as you want.
Power: When time matters and you want to get from A to B, fast.
Eco: With 40 miles of range before a recharge, Eco mode is designed to stretch your horizons.
Smart:The perfect balance between power and battery life, no math required.
Bike: Powered by the classic "all-you" engine. Just like riding a bike.
lightweight and compact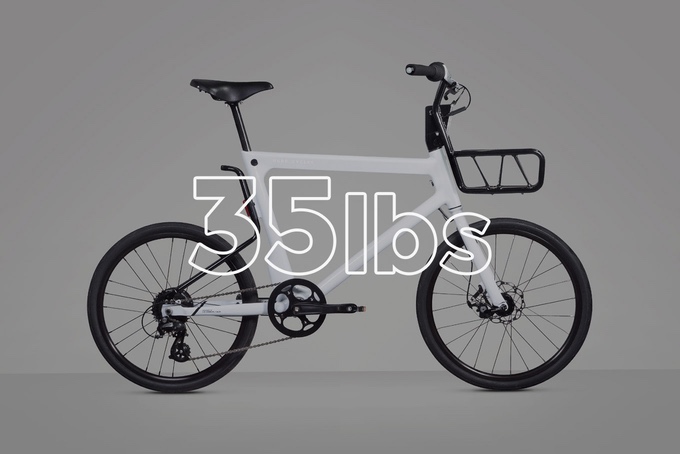 An e-bike is not really convenient if you can't carry it up the stairs when you get back home. We spent weeks refining the Volta, shaving off weight everywhere possible and developing the sleekest, slimmest, lightest ride we could, without sacrificing range or power.
stralthy battery in top tube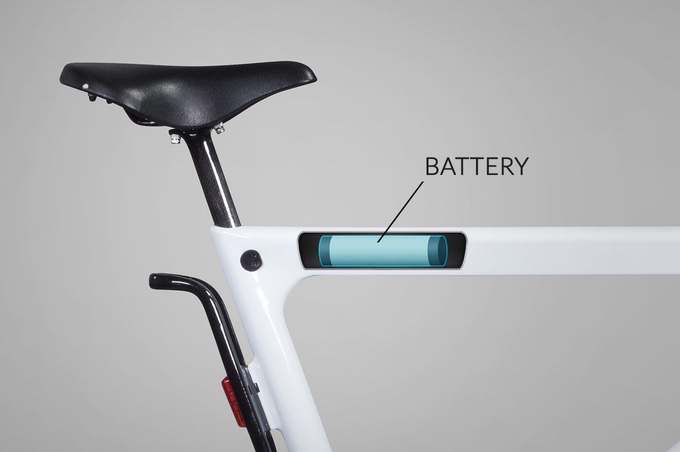 40 miles of charge packed neatly into the frame so your ride doesn't scream "e-bike," it just delivers.
No big, ugly battery. No clunky add-on systems. Just pure power in a sleek package. Heck, your friends might not even notice it's an e-bike (until you casually blast past them uphill).
health tracking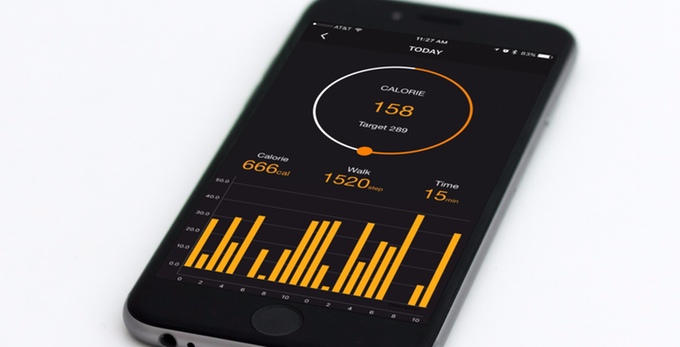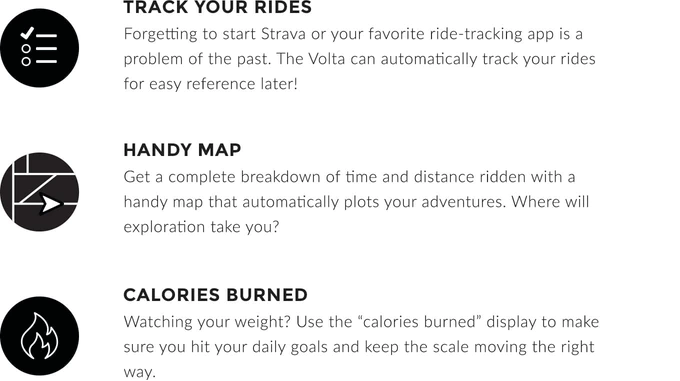 We designed and developed health tracking in the Volta app, so you can keep an eye on your workout details, calories burned, track your trips, and more. Make riding part of your regimen, track your fitness goals, and become the you you've always wanted to be.